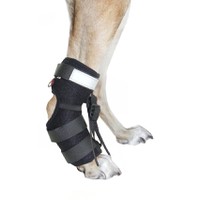 Moderate support of the hock.
Do not use for immobilization!
Our specialist in the creation of products for rehabilitation has developed Hock Support, which keep the correct angle of the hock.
The neoprene wrap of the hock has an additional strap to create tension in the joint area and a special elastic loop for correcting the fingers.
The strap saves the paw from hyperextension in the hock. The loop prevents unwanted finger bending.
Hock Support can be used without the tension strap and loop for prevention of trauma during training and physical activities.
Using
Trauma of the tendon, sprain, hyperextension, arthritis, degenerative joint diseases, spinal trauma and disease, after the removal of gypsum.
The set includes an elastic loop for correction of fingers and a tension strap for the correct angle of the hock.
Material: neoprene, velcro, textile tape.

Care: hand wash or delicate at 30 ° C, do not iron, do not use chlorine-containing products.
---
---
Or download the Order Form

for order later

Download the Order Form

(44.0 KB)
---